Have Fun Running Trains

One of the major benefits of being an RMD member is being able to run your trains on RMD's Modular Layout. Throughout the year, RMD brings the layout to various train shows and events. Members sign up for run times at the events and are able to run all flavors of O gauge and S gauge equipment in both conventional or remote modes. Each layout module measures approximately 36" by 70". There are 21 modules containing 4 loops as well as a yard sidings. There are three main loops along with a separate siding area used for staging consists. Each module includes its own fold-up legs, improving portability and storage requirements.
2022 Holiday Show - Loveland CO - Run Schedule
Learn About Building and Maintainng A Layout

Check Out The Design Features Of RMD's Modular Layout
RMD's Innovative New Module Design
Fig. 1
- This diagram shows the most basic configuration of the new modules.
The lower level will be wider than the upper level. The dual gauge loops will be located on the upper level. This will allow the lower loops to have sidings, interlocks and yards. Designs for these features will be made available over the next few weeks. The upper levels will be electrically isolated from each other and the lower level loops. Older trains such as Marx will run on the upper loops as they will have no turn-outs.
Fig. 2
- This picture shows the module with 2 siding modules inserted. In reality there would be 3 modules 2 with the turnouts and 1 with straight track. This would result in sidings that are 11.5 feet long.
Fig. 3
- This picture shows the Peninsula Modules. The proposed Peninsula Modules would allow train traffic from the lower outer loops to pass under the upper loops into the center of the layout. The 'yard' modules would be the standard 36" X 70" modules this would allow almost 16 feet of storage track
Fig. 4
- This track plan shows the 'Big Picture' and one of the track plans we can consider. It consists of:
We are open to suggestions. Please contact the Modular Group with comments and or detailed suggestions using the Contact RMD feature.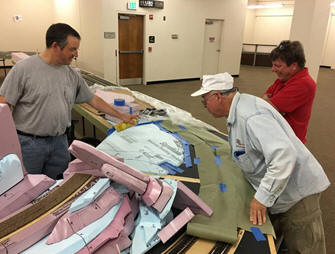 Introducing The New Module Control Panel!
The new control panel was designed and built by Clancy and Jerry . Here it is shown at the annual Food and Gift Show and the Colorado Convention Center 11/17/2011. There is room remaining for a Lionel Legacy base unit as well as an MTH TIU.