Become an RMD and TCA member!
Join in on all the FUN!!!
Download RMD-TCA Application form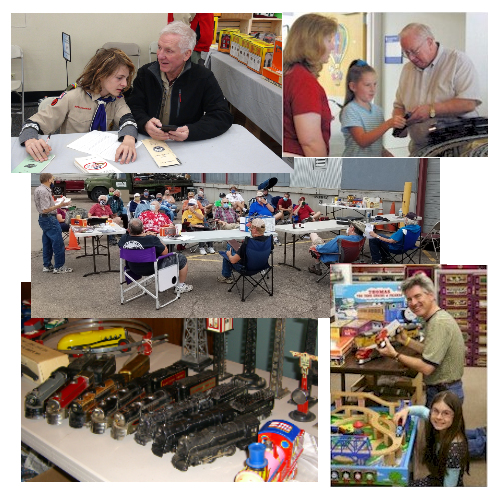 As an RMD member, you will enjoy these benefits:
(see details in the tables below)
Monthly business meetings/mini-swap meets
Participate in TCA member-only auctions
Sell at RMD and all TCA train meets
Early entry at RMD train meets
National Convention
New Friends
First access to division car sales
MEMBERSHIP INFORMATION
The Rocky Mountain Train Shows are run by the Rocky Mountain Division of the Train Collectors Association (RMD TCA). In order to sell at our shows you must be a member of the Train Collectors Association (TCA), our national organization located in Strasburg, PA. RMD members receive the additional benefit of first choice of sales tables at all of our shows.
TCA Membership Benefits
Sell trains at all TCA shows
Sell at & Attend TCA National Conventions
Run for TCA national office
Free TCA Museum admission
May purchase special TCA trains
Attend other TCA events not open to public
Receive TCA Quarterly Newsletter
Free ads in National Headquarters News
Vote on TCA matters
Estate settlement service
Attend RMD/TCA member only Auctions
RMD/TCA Benefits
Get Rocky Mountain Train Show Info 1st
Rocky Mountain Train Show Admission Discount
Get Rocky Mountain Train Auction Info 1st
Run Trains on the RMD Modular Layout
Receive RMD Newsletter and Directory
Receive RMD "Tidbits" Emails
Access member section of Web Site
Attend monthly Division meetings
Vote on Division matters
First access to division car sales
Collection Liquidation Auction Services
**** Special Offer! ****
New applicants to the TCA that reside within the RMD states of Colorado, Utah, Nebraska, Wyoming or Montana pay first year TCA dues of $50. RMD first year dues of $20 are free. After the first year annual TCA dues are $50 and RMD dues are $20. To take advantage of this special RMD membership offer fill out the attached RMD-TCA Application form and enclose a check payable to 'RMD-TCA' for $50
Click here to download the RMD-TCA Application
Mail the completed application form and payment to:

RMD-TCA Secretary
Rocky Mountain Division TCA
15033 E. Crestridge Dr.
Aurora, CO 80015


For question, please use the Contact RMD Page and select 'Membership'.